It's time for the FIFA Men's World Cup Qatar 2022! See our viewer's guide or specific pages for teams, matches, and watching in different countries!
The English Premier League or simply EPL is one of the top soccer leagues in the world. The current season runs from August 5th, 2022 through May 28th, 2023. (See below for a complete list of matches.) Cord-cutters can catch all the action with choices from all the major streaming services. Read on to learn more.
In a hurry? Premier League matches run live on NBCUniversal channels so all these streaming services will cover you and provide a lot more as well:
The Premier League is arguably the world's top soccer league from top to bottom. It is unquestionably the world's most powerful league as far as revenue goes. It only trails MLB, NFL, and NBA when all sports leagues are taken into account.
This is partially due to its place in the history of the world's most popular sport; England is where its rules were adopted in 1863 and where many of its famous clubs are.
If you are looking to catch all of the action from this league, which runs from August to May, ensure that you have access to Peacock and related channels such as USA Network. A subscription to FuboTV, Hulu + Live TV, Sling TV, or DIRECTV STREAM will take care of the latter requirement.
Sign Up for a Free 7-Day Fubo Trial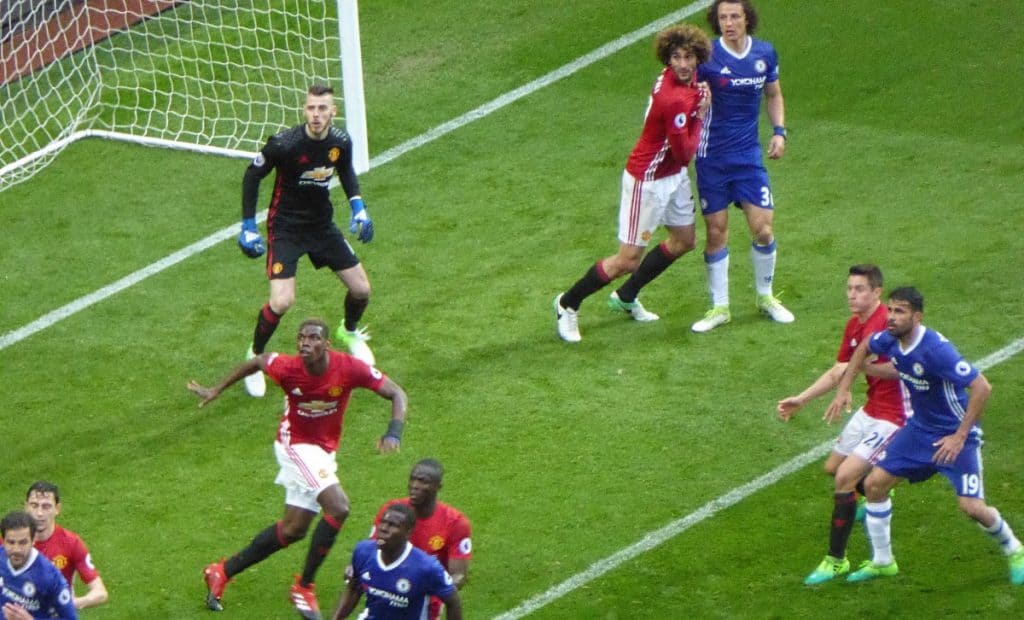 What Is the Premier League?
The Premier League is the top soccer league competition in England and Wales. It is generally comprised of English clubs and, as of the 2021-22 season, is 100% English. But five Welsh teams are eligible to be promoted into the Premier League. Cardiff City and Swansea City did just that in the past; the last Welsh team was Cardiff City, which was relegated following the 2018-19 season.
This competition is at the top of the English football pyramid, which stretches down, unofficially, 21 levels with teams being promoted into higher leagues and relegated to lower ones every year. Between Premier League seasons, three former clubs make plans for playing in the second-tier Championship the following campaign while three teams from the latter league prepare for Premier League play.
However, some Premier League clubs, despite it always being possible for them to be relegated, never are. A total of six teams were part of the inaugural 1992-93 Premier League season and have been in the league ever since: Arsenal, Chelsea, Everton, Liverpool, Manchester United, and Tottenham Hotspur.
As for the top of the tables, Premier League winners have included Manchester United (13 titles), Manchester City (5), Chelsea (5), Arsenal (3), and Liverpool (1). However, it is not just the big names that lift the Premier League trophy, as shown by Blackburn Rovers' title in 1994-95 and Leicester City's in 2015-16.
How Is the Premier League Organized?
The scheduling format in the Premier League is simple. Each team plays its 19 opponents twice, once at home and once away, for a total of 38 matches. This is different from how American-based sports leagues work, including MLS, which tend to have teams play their opponents differing numbers of times.
The season usually starts in the middle of August and runs to the middle of May with most matches on the weekends. Boxing Day – Dec 26 – is one of the most significant days of the season. It is roughly similar to American football on Thanksgiving in the US although every Premier League team plays on Boxing Day.
On the last day of the season, all 10 matches are played simultaneously. This is done to ensure fairness as games being played at different times can unintentionally give an unfair advantage to one or more teams over others. And it results in a lot of excitement as those two hours often involve the culmination of a title race, European positions being decided, and teams being relegated.
Sign Up for a Free 7-Day Fubo Trial
Other Competitions
The Premier League is not the only competition that its 20 clubs take part in. All of them play in the FA Cup and EFL Cup while some play in the UEFA Champions League, UEFA Europa League, and UEFA Europa Conference League. Participation in the UEFA Super Cup and FIFA Club World Cup for English sides is possible as well.
Everything starts with the FA Community Shield, a single match played at Wembley Stadium between the previous season's Premier League and FA Cup winners. It occurs the weekend prior to the start of the Premier League season. Although a trophy is awarded, it is deemed to be the least prestigious competition of the ones mentioned here. But it is a celebratory start to the campaign.
The FA Cup is the world's most famous cup competition and involves more than 700 clubs. Premier League teams enter it in early January while its final is held in May. The EFL Cup is a less prestigious cup that is comprised of nearly 100 clubs and involves Premier League sides from August to February.
The Champions League involves four Premier League sides while two league teams take part in the Europa League, and one side participates in the Europa Conference League. Those exact figures can fluctuate by a spot on either side depending on how the previous season played out.
The Super Cup features the previous season's Champions League and Europa League title holders while the last campaign's Champions League winner also participates in the Club World Cup.
All in all, these competitions can result in fixture-heavy calendars for some clubs. For example, during the 2019-20 season, Liverpool played 38 Premier League ties, four FA Cup matches, three ELF Cup contests, eight Champions League games, two Club World Cup contests, and a match apiece in the Super Cup and the Community Shield for a total of 57 competitive games.
Unblock Your Favorite Events & Teams With a VPN
If you can't watch your favorite events or teams because of your location, a VPN will allow you to get the access you are entitled to, plus extra security and unequalled privacy. Check out our VPN Guide for everything you need to know, including our top pick ExpressVPN.
Get ExpressVPN Today
2022-23 Premier League Schedule
The 2022-23 Premier League season runs from August 5th, 2022 through May 28th, 2023.
Sign Up for a Free 7-Day Fubo Trial
Where Can I Watch Premier League Matches?
NBC owns the English- and Spanish-language broadcasting rights for all Premier League matches within the United States, predominantly showing games on NBC, USA, Telemundo, and Universo and streaming all non-broadcast contests and simulcasting NBC-broadcast ones on Peacock.
For example, for the weekend of Oct 30, 2021, one match was on NBC, five were shown on NBCSN, USA had coverage of a single contest, Telemundo broadcast one match, and Universo showed five. All of the Spanish-broadcast contests were also carried by an English-language counterpart. Meanwhile, Peacock streamed the three games that were not broadcast anywhere as well as the NBC-broadcast match.
One important factor to keep in mind is that sometimes NBC will place a highly anticipated match solely on Peacock. A clear example of this during the 2020-21 season was no US-based broadcasting of the showdown between Liverpool and Manchester United on Jan 17, requiring fans to subscribe to that streaming service to watch it.
Also, Premier League contests are sometimes shown on other channels. One example of this occurs on the final day of the season when 10 matches are played simultaneously.
On the last day of the 2020-21 campaign, games were shown on NBC, NBCSN, USA, CNBC, and Golf Channel with the remaining five only available online through Peacock. However, games on CNBC and Golf Channel are rare, and most streaming services that provide the other NBCUniversal provide them as well.
How Can I Watch Premier League Matches?
You have many options for watching English Premier League without entering into a cable or satellite contract.
Peacock
Peacock Premium is only $4.99/mo and is a must if you want to watch every Premier League match played by a club or simply want access to live coverage of all 380 contests league-wide. This is because this is your only option for a significant percentage of the league's matches.
Note that all NBC-broadcast matches may also be viewed live on Peacock, so you do not need access to NBC to watch Premier League games shown on that channel.
Peacock subscribers will also be able to watch Premier League Goal Rush at 10 am ET on Saturdays and catch coverage of all of the action from several simultaneous matches.
In addition, a Peacock subscription provides you with the ability to view recorded broadcasts of televised matches that you missed. Note that Peacock Premium Plus ($9.99/mo) is an ad-free service but this will generally not apply to live Premier League matches.
See our Peacock review for more details.
Sign Up for Peacock Premium for 99¢/mo!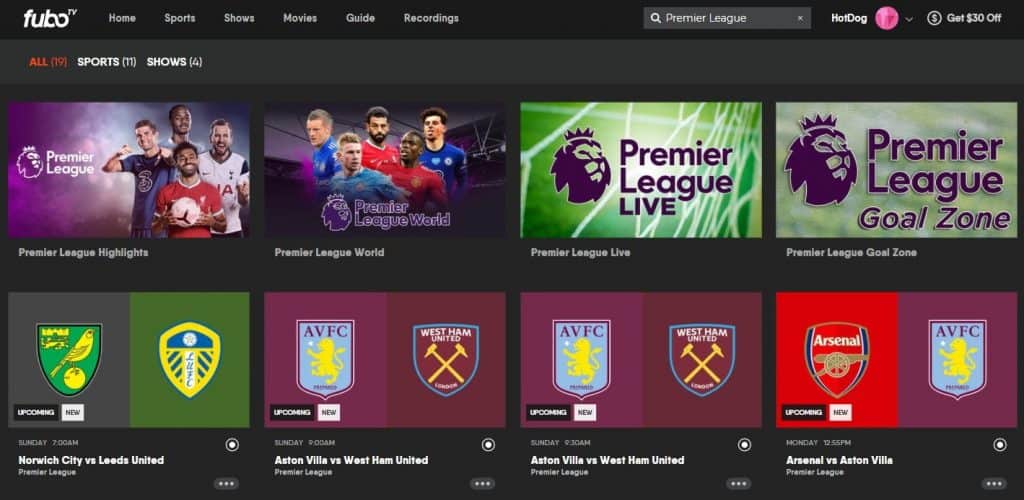 FuboTV
If you are a general soccer fan, FuboTV is the live TV streaming service for you.
At $69.99/mo, it offers access to NBC, USA, CNBC, Golf Channel, Telemundo, and Universo. This makes it the only streaming service to provide its subscribers with all Premier League-related channels in its base plan.
But FuboTV offers much more. You get all the local channels and a good selection of entertainment, news, and family-oriented stations. In addition to the stand sports channels (ESPN, Fox Sports, CBS Sports Network), it provides 10+ beIN Sports and TUDN channels so you can all your favorite teams when the matches are running at the same time.
Fubo also provides at least 1000 hours of cloud DVR and the ability to live stream on up to 10 devices at once time.
See our FuboTV review for more information.
Sign Up for a Free 7-Day Fubo Trial
DIRECTV STREAM
The base DIRECTV STREAM (formerly AT&T TV) Entertainment plan is $69.99/mo and provides access to NBC, USA, and CNBC — most of the channels that air Premier League matches. If you also want the Golf Channel, you will need to upgrade to DIRECTV STREAM's Ultimate plan ($104.99/mo).
As for the two Spanish-language channels, watching Universo also requires an upgrade to the Ultimate plan or you can add it as a standalone add-on to the Entertainment plan. Conversely, Telemundo can only be added individually, regardless of which plan you purchase.
DIRECTV STREAM comes with unlimited cloud DVR (online sign up required) and the ability to stream on unlimited devices at once. As a result, it may be an especially good deal for large households.
See our DIRECTV STREAM review.
Get DIRECTV STREAM Free for 5 Days
Sling TV
To receive Premier League coverage through Sling TV, subscribe to its Blue plan for $40.00/mo. With it, you get NBC and USA. But it does not include CNBC or the Golf Channel. If you do want them, you can add them through the News Extra add-on ($6/mo) and Sports Extra add-on ($11/mo), respectively.
Universo is available from Sling with the Best of Spanish TV add-on for $5/mo extra. Telemundo is not available.
You get 50 hours of cloud DVR storage and streaming on up to 3 devices at once with the base plan.
Read more in our Sling TV review.
Save 50% on Sling TV
Hulu + Live TV
Hulu + Live TV is $69.99/mo for 85+ live TV channels in addition ESPN+, Disney+, and an outstanding on-demand library. This includes NBC, USA, CNBC, Golf Channel, and Telemundo. But you would need to pay $4.99/mo extra for the Espanol add-on to receive Universo.
You can watch on up to two screens at once with Hulu + Live TV. And its plan comes with unlimited cloud DVR with 9 months of storage.
For details, see our Hulu + Live TV review.
Try Hulu + Live TV Today!
Other Ways to Watch EPL Matches
There are other ways to watch EPL matches.
Antenna: With NBC broadcasting one match a week on most Premier League weekends, you can get periodic access to this competition's matches through an antenna. See our antenna primer for more information.
YouTube TV: This streaming service offers all the NBCUniversal channels for $64.99/mo.
NBC Sports App: You can live stream games on this app assuming you have a streaming service subscription.
For those outside the US, there are different services depending on the country. FuboTV provides exclusive coverage in Canada, for example. Sky Sports, BT Sport, and Amazon Prime Vidgo divide up the games in the UK. Optus Sport provides it in Australia and Spark Sport in New Zealand.
Other Competitions Other Channels
Keep in mind that other competitions that Premier League clubs take part in are broadcast through non-NBC outlets. For example, CBS and Paramount+ ($4.99/mo) handle Champions League, Europa League, and Europa Conference League contests while ESPN+ ($9.99/mo) broadcasts FA Cup and EFL Cup matches.
TVs and Devices to Live Stream Premier League Soccer
All of the streaming services that we've discussed provide support for the vast majority of streaming TVs and devices in use today. We'll look a bit closer at Peacock and FuboTV but see our reviews of them for the complete list of supported devices.
Both support smart TVs from LG, Samsung, and Vizio as well as those based on the Android TV specification.
They also support the TV devices Amazon Fire TV, Apple TV, and Roku.
You can watch Premier League matches on Android and iOS smartphones and tablets. And you can use Chromecast to cast the game from them to your TV.
The Xbox One gaming system is supported by both. Peacock also supports the PlayStation.
Superpower Your Streaming With a VPN
For the sake of privacy, security, and access, you should be using a VPN. They are low-cost and easy to use. We've been using them for years and our top pick is ExpressVPN. Be sure to check out our Cyber Monday 2022 deals on ExpressVPN, NordVPN, SurfShark and PureVPN.
i Our VPN Buyer's Guide provides a complete introduction and all you need to know to choose the best VPN for your needs.
Wrapping Up
If you want access to every Premier League match, your best, most affordable, and the most thorough option is to subscribe to Peacock ($4.99/mo) and FuboTV ($69.99/mo).
Conversely, if you are fine with not watching every match live, note that all games not streamed live through Peacock are made available through that service within 24 hours of being broadcast on one of NBC's television channels.
Sign Up for a Free 7-Day Fubo Trial
FAQs
When is the Premier League season?
The Premier League season runs from the middle of August to the middle of May. Matches are contested on most weekends, generally, all that are not otherwise filled with national team matches or FA Cup contests. Several games are played simultaneously at 10 am ET on Saturdays.
Which teams are in the Premier League?
As of the 2021-22 campaign, the Premier League clubs are as follows:
Note that three of these teams will leave the Premier League at the conclusion of the season, to be replaced by three teams from the second-tier Championship.
What happens now that NBCSN has shut down?
NBC announced in early 2021 that it will shut down NBCSN around the end of that year. Once this occurred, matches that were broadcast on it will mostly move to USA Network. Regardless, Premier League games will continue to be shown on NBC-owned stations and Peacock, at least through the 2021-22 season. The broadcasting rights within the US for the 2022-23 campaign and beyond have not yet been awarded.
How do I watch soccer leagues besides EPL without cable?
See these guides for watching other leagues:
Premier League Live Stream: How to Watch the 2022-23 English Soccer Season Online
Author: rollingstone.com
Published: 11/01/2022
Review: 4.74 (294 vote)
Summary: Looking to watch Premier League online for free? You've got a couple of options in the form of free trials, as mentioned above. Using fuboTV's …
Source: In terms of bang for your buck, Peacock is the best way to watch Premier League games online in 2022. The NBC streaming service will have Premier League live streams for about half of the season's games, and a subscription costs just $4.99 a month. …
Detail: https://www.rollingstone.com/product-recommendations/lifestyle/how-to-watch-premier-league-online-free-soccer-live-stream-1391776/
WATCH PREMIER LEAGUE LIVE STREAMS
Author: nbcsports.com
Published: 09/08/2022
Review: 4.42 (292 vote)
Summary: Watch live matches and get 2022-2023 Premier League fixtures, schedule, highlights, replays, and more on NBC, the NBC Sports app and Peacock.
Detail: https://www.nbcsports.com/soccer/premier-league